You are here
The Northern Territory Cattlemen's Association is dedicated to the safety of all who live, work or visit cattle stations around the Territory.
A Word About Safety
Having a culture of safety is not only about compliance with legislation or looking out for your workers. It is about you, your family members, your visitors, any volunteers and your contractors. Improvements in safety will have positive flow on effects for your business, the viability of our regional towns, and the improvement of the socioeconomic wellbeing of society as a whole.
The guiding principle of Workplace Health and Safety (WHS) legislation is that all people are given the highest level of health and safety protection from hazards arising from work activities, so far as is reasonably practicable.
Everyone has a responsibility and a duty of care towards each other in a workplace. The more control an individual has over the workplace, the work activities being performed, and the equipment being used the greater their responsibility to ensure safe outcomes. This Handbook has been developed to help all individuals, regardless of the position held in the business, to introduce safety concepts and begin to develop meaningful systems.
Principles of Safety in Agriculture
The following principles are important to remember when managing safety:
1. Safety is everyone's responsibility.
2. It is impossible to remove all hazards and risks from farming. We can only do our best to manage them.
3. Hazard awareness at all levels of a business plays an important role in reducing the likelihood of an accident occurring.
4. Human perceptions of risk are not very accurate.
5. Humans are fallible beings
6. Effective training and communication is necessary to maintain a safe workplace.
Basic Steps to Start Creating a Safer Workplace
1. Choose to make safety a priority. Take responsibility for your own actions. Lead by example
2. Learn about the hazards present in your industry and workplace. Every workplace is different but most share common hazards. The NT Worksafe website and Safe Work Australia can provide information about most hazards. If you are aware of the potential hazards in your industry you will be more likely to recognise them in your workplace.
3. Inspect your workplace. Look for potential hazards. Record what you find. If possible, and within your abilities, remove the hazard. If the hazard cannot be removed, report it to your supervisor or manager.
4. Analyse your tasks for hazards. Break down your operational tasks into individual steps. Identify potential for injury and look for ways to make the task safer.
5. Communicate. Communication should be done in a way that is appropriate for the size of your workplace and the number of people in it. Once you are aware of a hazard in your workplace it is your responsibility to address the hazard and make other people exposed to the hazard aware that the hazard exists. Let managers and supervisors know about observed hazards as soon as possible.
Click the cover to access the Work Health and Safety Handbook.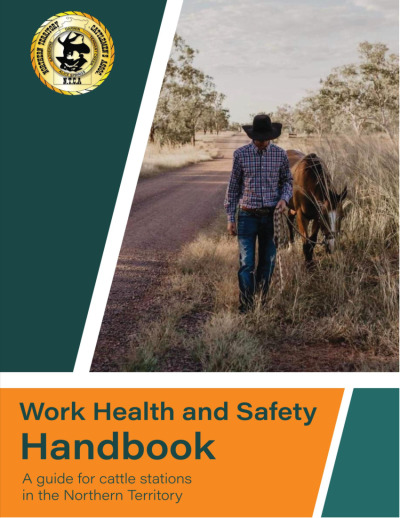 Educational children's videos about station safety can be found here:
https://www.youtube.com/watch?v=0KltriGX5E4
https://www.youtube.com/watch?v=ka_npK3th60&t=1s
https://www.youtube.com/watch?v=iVqksYf52kI
https://www.youtube.com/watch?v=c--xJsOg90s
For more information or to be supplied with the PDF print version of the WHS Guide, please contact Shannan Hayes on eheo@ntca.org.au